Description
Specifications:
1. Product Dimension approx. 12x 5x 5.2cm( 4.72"x 1.96"x 2.04")
2. Quantity of Circuits / Fuse Slots: 6
3. Quantity of Labels : 80
4. Working Voltage: 32V dc max.
5. Maximum of 20 Amp per circuit, and 75 Amp per panel.
6. Main Line Terminal Rating: M6 Threaded Studs( 75A, 32V dc. MAX)
7. Main wire size: #4~ 6 AWG.
8. Single Wire Terminal Rating: M4 Threaded Studs( 20A, 32V DC. MAX).
9. Single wire size: #12~ 16 AWG.
10. Accepts Blade ATO or ATC fuse 1A to 20A
Features:
1. The 6-ways Fuse Block with negative electrode Bus & Cover& Bolt Connect Terminal & Manual Reset 5A, 10A,15A Blade ATC/ ATO Fuse kit, work great for replacing old outdated fuse boxes in old cars and boats.
2. Lots of old cars and boats had very few connection spots and are more than likely overloaded with todays electronics.
3. The Fuse box which with Negative Electrode itself protect your electrical stuff from overloads.
4. You also can use the fuse box to hook up electrical system in your 10- 32 volt dc automotive or boat power source etc, it can work perfectly as a power distribution block.
5. It is very easy to wire up and use, organize all your electrical accessories in a small area.
Package Include: 
1 x 6 Circuit Fuse Box Holder With Negative Electrode
80 x Label Sticker
4 x Screw
2 x Manual Reset 5A Blade ATC/ ATO Fuse
2 x Manual Reset 10A Blade ATC/ ATO Fuse
2 x Manual Reset 15A Blade ATC/ ATO Fuse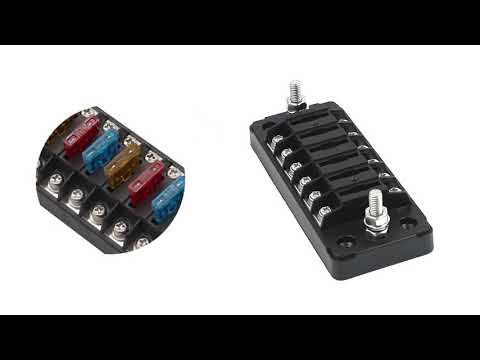 6 Way Blade Fuse Box Holder With Negative Pole Kit For Car Boat Marine Van 32V - YouTube
Video will open in a new window
Using the eBay App? Paste link into a browser window:
Shipping:
Free Shipping
Delivery Time: 3-8 working days

Warranty:
Returns: Customers have the right to apply for a return within 60 days after the receipt of the product
24-Hour Expert Online: Solve your installation and product problems