Description
Features:
1.Excellent performance and high quality.
2.Made of high-quality material, durable, firm and stable for us to use.
3.This is a cleaned, thoroughly tested and sealed Printhead.
4.Good stability, long lifespan.
5.Full color function.
Specifics:
Condition: ORIGINAL REFURBISHED
OEM code: CB863-60002 CB863-80013A CB863-80002A CB863-8000 2 CB863-60133
Size: 85x68MM
Fits Following Model(s):
For HP 932 933 932XL 933XL Printhead
For HP Officejet 6060 6060e 6100 6100e 6600 6700 PREMIUM
For HP Officejet 7110 7600 7610 7612 Wideformat CB863-60002
Package Included:
1 x print head?set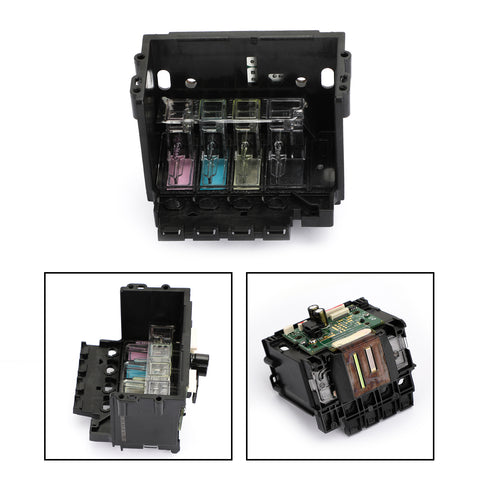 Note:
1.In print entered please turn off the power of the printer, or it will cause the mainboard chip burned.
After loading the print head, please don't install ribbon overhead 10 pieces of A4 document,
so that make the new needle have a running-in process, and then put the ribbon. I hope you can be careful operation.
2.If the original print head was broken and especially leaked ink, the mainboard has burned possibly,
so please troubleshoot the problem of the mainboard before replacing the print head. In addition,
the F1,F2 fuze wire of mainboard can only be replaced by the original fuze that has same current value and same model.
If replacing fuze that is biger current value and different model, Both printhead and mainboard are possible to be broken.
3.Print head requires lots of attention, It is easy to cause man-made damage if a non-professionals replace printhead blindly.
There is a regulation that printhead is not warranty, and it is delicate and expensive.
please do not make commissioning on the machine, and please treat it with caution.
4.If you are not familiar with the machine, it is recommended that you had better send the print head to a repair station
or find professionals to replace the nozzle, so as to avoid unnecessary losses and unnecessary trouble.
Shipping:
1. Free shipping
2. Parcel will be delivered 6-8 working day
3. Parcel will arrive via Fedex or Canada Post

Warranty:
Returns: Customers have the right to apply for a return within 60 days after the receipt of the product
24-Hour Expert Online: Solve your installation and product problems
I am apprehensive about buying this. This is my first time because of printer failure. After purchasing a defective product from Ebay, I decided to try again. This is not the plug and play part. First, I installed the printhead and ink cartridge, made sure there were no leaks, and if I was lucky, it fixed the problem. Or it shows missing printhead etc, you need to remove the printhead and clean the contacts and springs behind the printhead board. The customer service gave me an installation video, how to clean the print head, and he helped me patiently. Eventually my printer worked again.