Description
Voltage Regulator Rectifier Fit For Yamaha F100 A/B/C ETL/X F95A F90A F80A F75A ETL 99-16

FEATURES:
Direct replacement to your original unit.
Plug-and-play, direct fit, easy installation.
No assembly required.
Higher grade of electric components.
Improved heat sink and charging capabilities.
The quality exceeds or meet the OEM equipment.
All products shipped are tested.

SPECIFICATIONS:
Condition: Aftermarket 100% Brand New
Quanity: 1 PC
Type: Voltage Regulator Rectifier

Dimensions:
Length: 92.4mm / 3.63 inches
Width: 79.7mm / 3.13 inches
Height: ?27.8mm / 1.09 inches
Fixation Holes Distance: 72mm / 2.84 inches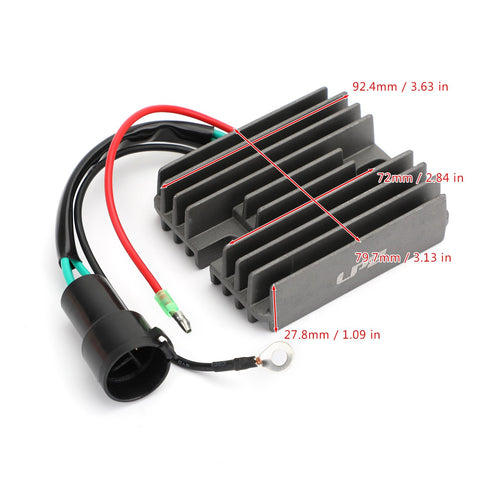 Other Specifications:
Number of plug interface pins: 5
Number of Plugs: 3
Number of Wires: 5

REPLACEMENT PART NUMBER: 67F-81960-12-00,67F-81960-00-00

FITMENT:
Fits Yamaha Outboard Motors:
Fits Yamaha F100A ETL/X 1999-2006
Fits Yamaha F100B ETL/X 2003/2005-2012
Fits Yamaha F100B ETX 2010-2012
Fits Yamaha F100C ETL/X 2003
Fits Yamaha F95A ETL/X 2005-2012
Fits Yamaha F95A ETX 2012-2015
Fits Yamaha F95A ETL 2012-2015
Fits Yamaha F90A ETL/X 2004
Fits Yamaha F80A ETL/X 2002-2007
Fits Yamaha F75A ETL 2004

PACKAGE INCLUDED:
1x Voltage Regulator Rectifier

NOTICE:
Before installing your new voltage regulator rectifier;

Check the AC output of the stator.
Replace any burned or corroded connectors on stator and regulator/rectifier
Check and repair any melted wiring.
Use hi-temp dielectric grease on all connectors.
Shipping:
Free Shipping
Delivery Time: 2-6 working days

Warranty:
Returns: Customers have the right to apply for a return within 60 days after the receipt of the product
24-Hour Expert Online: Solve your installation and product problems